About St. Andrew's Scots Kirk
We welcome you to St. Andrew's Scots Kirk, a vibrant, growing parish of the Church of Scotland, located in the heart of Colombo. Our Mission is to provide a Presbyterian form of worship to which Christians of all denominations are welcome. Please email us if you want to meet in person to learn more about our church. See the contact us page for our mailing address, phone number, and email addresses. Our church doors are open every day of the year.
We invite you not only to explore this website but, more importantly, to worship with us whenever you are able. Our regular Sunday services take place at 9.30 a.m. If you are unable to be with us in person, please do read through our Orders of Service and sermons; you can access these directly through this page. We post Orders for Sunday services every Saturday and they are left online for a period of three months.
We also invite you to join us for our excellent special services and concerts that take place during the year; and for coffee and refreshments following the Sunday service, to assist with our mission projects, and for other fellowship activities. Details for all activities are posted on the Events page.
Finally, if you worship with us regularly, we invite you to consider supporting us financially to continue our Ministry at St. Andrew's. We receive no financial support from the Government and so we rely on the generous support of everyone who worships with us.
Please help us to continue to carry forward the Presbyterian tradition of St. Andrew's Scots Kirk. Come and worship.
Minister at St. Andrew's Scots Kirk
Revd Ian Gilmour, here with with Kumar, our church officer at Haputale, is delighted to be serving St Andrew's.
He arrived earlier this year to be Locum Minister from another St Andrew's congregation (St Andrew's and St George's West) in Edinburgh, Scotland. He finds the church members friendly and committed and is pleased to have witnessed more people attending church. Ian worked in banking, local government and accounting before entering the ministry. He has served mainly in Scotland but has been involved in projects in Africa and America. He is married to Donna and their family will all come to visit Sri Lanka. The best thing about St Andrew's Scots Kirk is that people are open to attempt a new thing. His favourite saying from the bible is,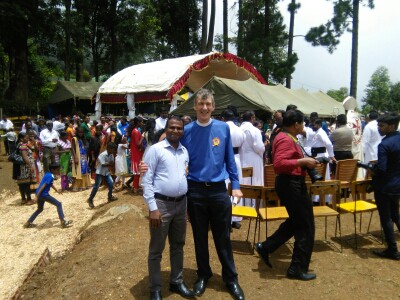 History of St. Andrew's Scots Kirk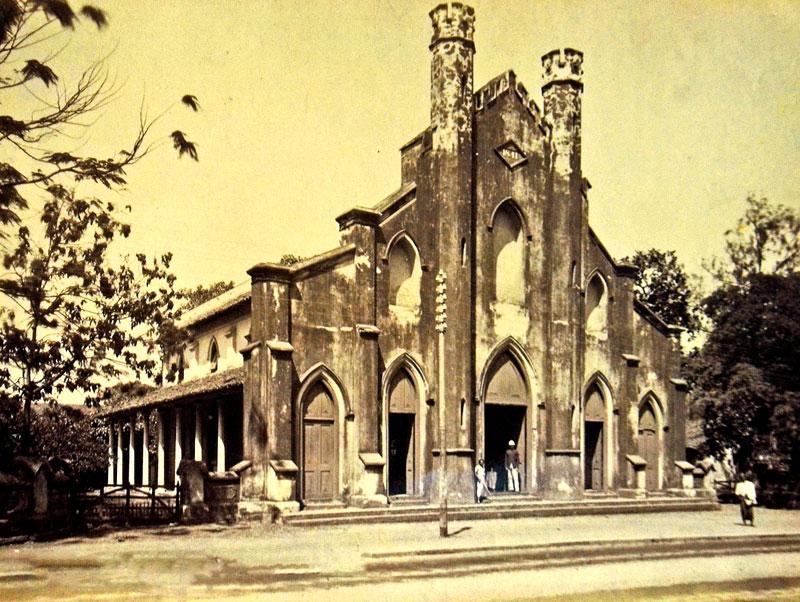 Amongst those who came to Sri Lanka two hundred years ago to seek their fortunes, was a community of tea planters from Britain, many of whom were Scottish. In fact, it was a Scotsman, Thomas Lipton, who first developed the tea trade in what was then known as Ceylon. The Lipton brand of tea is well known to this day around the world. The early planters left their mark through the names of some of the present day plantations in the Hill Country – for example, Edinburgh, Glasgow, Culloden and Invergordon. They also left their church buildings in Kandy, Haputale and Colombo, which were spiritual homes away from home.
Worship at St. Andrew's Scots Kirk, in Princes Street, Fort, Colombo, began on 21st October 1842. It was a member congregation of the Presbytery of Ceylon, part of the Church of Scotland, hence the name "Scots Kirk". The congregation enjoyed good relations with its Presbyterian brothers and sisters in the Dutch Reformed Churches of the city. (The Dutch preceded the British in colonizing Ceylon.) The church experienced good times of growth but had to endure some difficult times especially when one minister departed and another was still to make the arduous sea journey out from Scotland.
Under the ministry of the Rev. Alexander Dunn, the church moved to its new premises at 73 Galle Road, Colpetty, in 1906. The site at Fort was required for other purposes and the city was beginning to spread south through Colpetty. With more than 100 years of history behind this beautiful early 20th century Church, St. Andrew's has become an iconic building in the heart of the busy city of Colombo. The church building, designed by the Architect Edward Skinner, ARIBA, and built by Walker Sons & Co, with its beautiful stained glass windows, Gothic inspired columns and attractive marbled floor.

In 2007, St. Andrew's Scots Kirk became a "sanctioned charge", that is a full member, of the Presbytery of Europe (now known as the International Presbytery) of the Church of Scotland and an associate member of the local Presbytery of Lanka.
Today, more than half the congregation is from Asia with the other half coming from the other four continents of the world. A congregational (and pastoral) roll, rather than a membership roll, is maintained because so many of those attending are sojourners in Sri Lanka, here for the season of a contract with government, embassies, high commissions, the United Nations, other non-governmental organisations and a variety of commercial companies.
Ensuring a Safe Church for All
The Church of Scotland through the guidance of the safeguarding policy attends to the wholeness and well-being of each individual. Through its congregations, working together with the Safeguarding Service and statutory agencies, the Church seeks to safeguard the welfare of all people who come into contact with the Church and its services.
The Gospel proclaims that it is the responsibility of everyone within the fellowship of the Church to prevent harm, be it physical, sexual or emotional, and we will always seek to reduce risk.
The Church's commitment to safeguarding reminds us that God cares passionately about welfare and well-being of all people.
Governance of St. Andrew's Scots Kirk: The Kirk Session
The Church of Scotland has a Presbyterian structure where Elders and Ministers share responsibility for governing the church at all levels. Both Elders and Ministers are ordained; Elders are known as "ruling elders" and Ministers are known as "teaching elders". The Elders and the Minister of a congregation together form the Kirk Session, which the Minister chairs (or "moderates").
St. Andrew's Scots Kirk has a Unitary Constitution, which means that the Kirk Session deals with all matters related to the temporal and spiritual life of the congregation.
When a congregation has no permanent Minister, another Minister is appointed as Interim Moderator to lead the Kirk Session and congregation until a new Minister is appointed. St. Andrew's Scots Kirk is presently in this situation. The current Interim Moderator is the Rev. Jim Sharp – who lives in Geneva, Switzerland, but is in regular contact with the Kirk Session and visits Colombo from time to time.
The current elders of the Kirk Session are:
Elders – both men and women – are ordained for life. Each may have a particular area of responsibility – such as Christian Education, Mission, Communications, Staff, Fabric and Finance, and are involved in the Pastoral Care of the congregation.
The Kirk Session oversees all church organisations. The Minister has a particular responsibility for the Christian education of the young and not so young.
If you have any queries or issues you want to talk about, please do not hesitate to contact the Session Clerk.
St. Andrew's Scots Kirk is one of fifteen congregations which form the Presbytery of International Charges (better known as the "International Presbytery") of the Church of Scotland. The Presbytery oversees the Ministers in its congregations and provides support to these congregations. The Presbytery meets twice a year, over a long weekend; the Minister and an Elder from each congregation attend these meetings.